What is Karkotak Kaal Sarp Dosh?
Karkotak Kaal sarp dosh is said to be formed in one's horoscope (kundali), when Rahu is placed in the eighth and Ketu is placed in the second house of the horoscope (kundali).
Other planets are placed in the house ranging from the eighth to second.
Problems/Dosh caused by Karkotak kaal sarp dosh when formed in horoscope:
A wide variety of problems are faced in this Kaalsarpa dosh which is mainly related to health, marriage, family and many other problems.
Few of them may not get proper attention and affection from their parents and loved ones.
Education gets disturbed because of bad company of friends.
The native gets addicted to bad habits which are not good for health and can cause serious health issues.
Loss of money because of theft, car accident, hospital bills and imprisonment for illegal activities. These are some serious problems faced.
Karkotak Kaal Sarp Yog Remedies and Upay
As per Hindu astrology, there are remedies for Karkotak Kaal Sarpa Dosh
Wear energized shivayantra around the neck on Saturday.
Feed Bundiladoos to ants for 27 days starting from Saturday.
Offer coconut or raw coal in holy water on Friday.
Once in a year recitation of mahamrutunjay and rudraabhishek to be done at home.
Call Pandit Sunil Guruji to Book your puja at 08380000844
Karkotak kaal sarp dosh Effects on marriage:
Delay in marriage is what happens mostly with people of this Kaalsarpa dosh.
Depending upon the strength of dosh, problems can occur after marriage in native's life which can lead to divorce.
The native can also get engaged in extramarital affairs or can come in contact with the sex workers to satisfy their sexual requirement.
Karkotak Kaal Sarp Dosh Benefits or Karkotak Kaal Sarp Yog Benefits
In this regard, chanting the MahaMrutyunjaya Mantra with faith and devotion will work great wonders.
The baseline of all sadhana and yoga practices are self-disciplining and pleasing the divine.
Once these two ends are achieved, they can bring about highly positive benefits in countering the ill effects and misfortunes caused by the dosh.
Karkotak Kalsarp Dosh and It's Nivaran
Remedy involves Jaap of mahamritunjaya mantra for one lakh Thirty-five thousand (1,35,000) times. The remedy will be completed with Kaal sarp mahapooja of Lord Shiva.
The person should not buy vehicle on his/her own name and should be safe while driving.
The native should not be in partnership with trade or business and should maintain distance.
Should stay away from unhealthy food and also bad habits like liquor or smokes.
Karkotaka Kaal Sarp Dosh Chart
According to the chart, you will understand how did the dosh occur in your horoscope.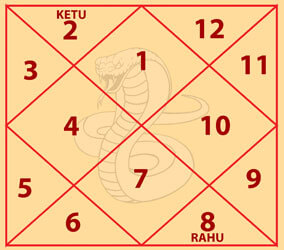 Rahu is in the eighth house while Ketu is in the second house of the horoscope ( kundali).
Shukra is in the first house, Shani is in twelfth, Chandra and Surya are in the tenth house, Guru mangal in eleventh house and Budh is in ninth house.
Call Pandit Sunil Guruji to Book your puja at 08380000844