What is Kulik Kaal Sarp Dosh?
Kulik Kaal sarp Dosh is formed when all seven planets Sun, Moon, Mars, Mercury, Jupiter, Venus and Saturn are hammed between Rahu and Ketu.
Kulik kaal sarp Yog is one of the type of kaal sarp dosh where Rahu is in second house and Ketu is in the eighth place and all the planets are between these two planets then there is Kaalsarp Yoga called Kulik.
Such a person has become a failure in his life; he learns to face many big insults because of this yog,the education of the native runs at normal speed, and his marital life also remains normal.
Kulik KalSarp Yog Remedies and Upay
In the middle finger of the right hand, retain a triangular coral gemstone of five and quarter whit on copper. This can be held on any Tuesday morning.
On Tuesday, wear an opened copper bracelet tightly fitted on right hand.
On Saturday evenings, the lamp of mustard oil is lit in front of Hanuman idol.
Hold energised Silver Rahu Yantra on Saturday.
Anointing Shiva for 30 days with raw milk in the month of Shravan, and black thorn apple.
Call Pandit Sunil Maharaj to Book your puja at 08380000844
Kulik kala sarpa dosha Effects on marriage:
Kaal Sarp Yog type Kulik can also cause problems after the marriages of some natives, apart from delaying the marriages of some natives.
The native under the combined effect of such Kulik Kaal Sarp Dosh and other malefic (causing harm) planets may fall in love with a girl at an early age and he may get married to her.
Kulik Kaal Sarp Dosh Benefits or Kulik Kaal Sarp Yog Benefits
Kulik kaal sarp dosh has a time period of around 47 years depending on individuals.
As soon as the kulika kaal sarp dosh is eradicated, you are benefited.
Kulik Kaal Sarp Dosh and It's Nivaran
Kulik kaal sarp dosh nivaran Pooja is very important as it helps in overcoming all the problems of life. The sudden death of the person can also be avoided when the kalsarp Pooja is combined with the recitation of Lord Shivji.
Kulik Kaal Sarp Dosh Chart: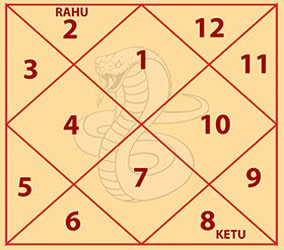 The rahu is at 2nd house and ketu is at 8th place of your horoscope and budh, shukra at 4th place and surya, chandrama is at 3rd place , shani at 7th place, mangal at 5th and guru at 6th position of your horoscope , which tells that you have kulik kaal sarp dosh in your kundali.
Call Pandit Sunil Maharaj to Book your puja at 08380000844